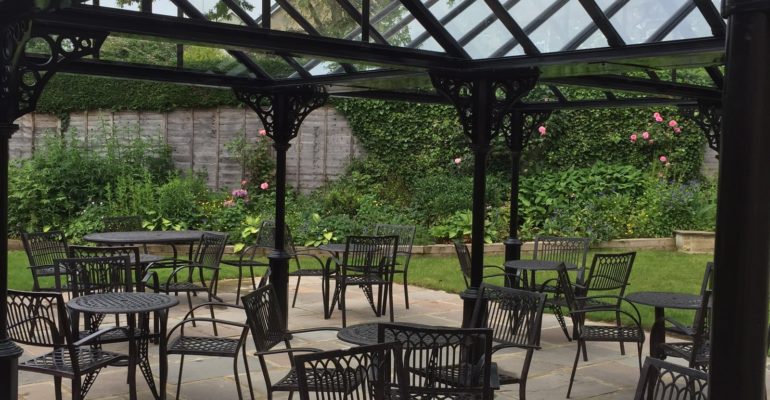 Boost Your Profits with a Bespoke Commercial Veranda or Structure 
"We can't believe the difference it has made. The customers love being able to sit outside to eat, drink and relax. It has enabled us to take more bookings and we now have a reputation for being able to cater for large parties and events as well." Station Hotel, Harrogate
Your business could benefit immeasurably from a covered structure that enables your customers and colleagues to be outside whatever the weather.
These are just some of the bespoke structures we've built for businesses:
A beautiful gazebo in a hotel's grounds, which led to more bookings by offering the perfect setting for ceremonies and performances
Several verandahs at a care home, allowing residents to enjoy the outside all year round thus increasing the appeal to potential occupants and their families
A covered shelter at an office building, where staff can enjoy breaks while being protected from the elements
A handsome covered porch at a guesthouse – adding grandeur to the property and protecting guests as they wait for the door to be answered
These are just a few examples – you just need to tell us the type of structure you need and let us do the rest.
We'll come to your premises to discuss your requirements and offer advice. Then our designers will prepare a series of scale drawings (useful if you need planning permission) for you to approve. There's no obligation at this stage – should you change your mind we won't charge you a penny.
When you've signed off the design our craftsmen will create your structure. Then our construction team visit your premises to put everything together for you. Although, if you wish to self-install or use an outside contractor, we'll drop the price accordingly.
When we're done, you have a lasting asset for your business that will bring in more customers and revenue.
Other reasons to choose us:
Anything we build for you has a ten-year guarantee on product and installation. In the unlikely event of a problem occurring, we'll fix it free*
All our products are handmade in Britain using largely British components
Our products are made from aluminium components, so won't rust or corrode. An occasional wipe with a damp cloth is all that's needed to keep your structure pristine
*Glass is exempt from 10 year guarantee
Contact us today to arrange your free, no-obligation consultation. Call 01580 854 891 or email [email protected]