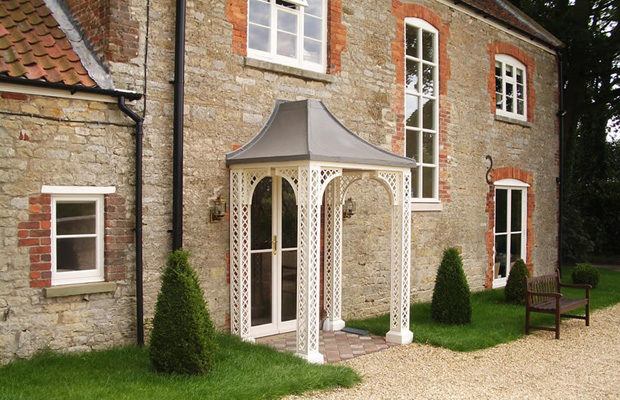 Our Porches Are A Handsome, Useful Addition To Your Home
"Our new porch has really given our front door a lift and added to the character of our house. We are very pleased with the level of service we received, and we think it is great value for money." W. Richardson, Buckinghamshire
Nothing adds to the visual allure of your home quite like a porch from The Traditional Verandah Company. It frames the entrance of your property and gives a more welcoming feel – boosting both your home's curb appeal and value.
Also, visitors can wait in a covered area, protected from the elements, as they wait for you to answer the door.
Don't worry – we'll make sure your porch fits in perfectly with your surroundings. The first thing we do is come to your home to assess the style and size of your house, take measurements, and chat with you about what sort of porch you would like.
Then we go away and draw up plans for your approval. There is no cost and no obligation at this stage – if you don't like what you see, or you simply change your mind, then you won't owe us a penny.
You can, of course, ask us to alter the design. Then, when you're happy, our craftsmen make your porch in our Kent workshop, before our construction team put it all together for you.
When we're done you'll have a beautiful and useful addition to your home.
Other reasons to choose us:
Your porch has a ten-year guarantee on product and installation. In the unlikely event of a problem occurring, we'll fix it free*
All our products are handmade in Britain using largely British components
Our products are made from aluminium components, so won't rust or corrode. An occasional wipe with a damp cloth is all that's needed to keep your porch pristine
*Glass is exempt from 10 year guarantee
Contact us today to arrange your free, no-obligation consultation. Call 01580 854 891 or email [email protected]